Posted
May 29, 2014 by Nightstand Novels
in BDSM
Novel Spotlight: Seduce me by Georgial Le Carre
Seduce Me
Georgia Le Carre

*Genre: *Erotic: Contemporary Romance

* Published: May 29, 2014

*Publisher: Indie/Self published


*ASIN: B00KMGNYDC

*Language: English

*Page Count: 156 pages

*Series: The Billionaire Banker Book #4
Book Blurb
L

ana has chosen Billie and her friend Julie Sugar to be her bridesmaids and preparations are under way as the big day draws ever closer for the besotted couple. Billie loves Lana and would do anything for her, but Julie's feelings are more concealed as she hides a shocking secret from her friend.
Lana believes she has won her man and sidestepped his treacherous ex—she could not be more wrong.
All through her young life, Julie Sugar has dreamed of only one man, but he has had eyes only for another. When Julie receives an invitation to be one of the bridesmaids at the wedding of her old school friend, Lana, she cannot pass the opportunity of seeing him again, even if it means she must conceal a shocking secret from her friend.
When things don't work out as she planned, the mysterious and breathtakingly handsome Vann Wolfe, offers her hope of the most surprising kind: private lessons in the art of seduction with him.
Twelve sessions, three times a week.
But just who is seducing who?
Purchase Seduce Me at:
'What about BDSM? Are you going to teach me something about that?'He looks at me over the rim of his glass. 'Why? Are you interested in being a submissive?''I don't know. I could be. What is it?'

'It's a game.'

'I like games. Start me off and I'll tell you if I like it.'

He stops smiling, his eyes change, darken. Very deliberately he positions his hand right in front of him, tips his glass sideways and allows the liquid in it to pour onto the table. I watch the puddle grow on the table. At some point before the glass is empty he stops pouring. I lift my eyes from the spill and look at him. His eyes are expressionless, watchful. The silence stretches. I break it. 'Well?'

'Clean it up,' he says.

'What?'

'I don't need to repeat myself, do I? It is a punishable offense.'

For a moment I feel confused. Was this the thing that has everybody hot up the collar? Do I want to be his little slave? The answer is obvious and immediate. I don't. Definitely not. But I'll let it play a little more and see where this little game goes. I turn towards the paper towels.

'Not with the paper towel.' His voice cracks like a whip.

I turn towards him slowly. Our eyes clash, a look of impatience about his. What does he want me to do? Clean the table with my tongue? The thought is unsexy, off putting. 'With what then?'

He leans back and folds his arms across his chest. 'With your sex.'

And suddenly I am wet. The idea is shocking but incredibly, unbelievably erotic. I step out of my knickers and walk towards him. I pull myself onto the table and opening my legs slightly so he can see what I am doing slowly drag my sex across the spill. Something flashes in his eyes. When I have dragged myself across the liquid I stop and look to him.

He nods slowly. 'You, he says, and there is a touch of admiration in his voice, 'are an excellent pupil. You never do more than what you are instructed to do.'

I say nothing. Just hold myself in that position.

'Now spread your legs,' he orders.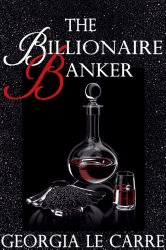 Georgia will be awarding The entire e-book collection of The Billionaire Banker Series: 'The Billionaire Banker', 'Forty2 Days', 'Besotted' and 'Seduce Me' as well as three Amazon Gift Cards in the following dollar amounts: $30, $20, and $10 to 4 lucky readers. What are you waiting for? Get to commenting so you can win! Good Luck!
a Rafflecopter giveaway
Georgia Le Carre lives in England, in an old 19th century romantic cottage surrounded by a magical garden filled with fruit and walnut trees.
When she is not feeding words into her laptop, she is either curled up in bed with a box of chocolates and a good read, or lost in a long walk in the woods. Especially on moonlit nights. And often with the man of her dreams.
You can find Georgia on: