Novel Spotlight: Besotted by Georgia Le Carre
Besotted
Georgia Le Carre

*Genre: *Erotic: Contemporary Romance

* Published: May 14, 2014

*Publisher: Indie/Self published


*ISBN:  978-0-9928249-4-5

*Language: English

*Page Count: 276 pages

*Series: The Billionaire Banker Book #3
Book Blurb
I

n Forty 2 Days we cheered as we learned of Lana's opportunity for a second chance to put things right with our wounded hero, Blake.
We read with joy at the news of baby Sorab's birth, and with tension in our bodies as the spirited Lana fought and finally overcame the might of Blake's powerful family to win the heart of the man she adored. 
But Lana still needs answers to many burning questions?
The secrets are many and tangled? Will she get the answers she seeks?
Blake finally lays it on the line to Victoria, and declares his true love for Lana, but will that be the end of the matter?
Then there is the re-appearance of Marcus.
Can Lana keep her resolve and overcome all obstacles to
claim her man forever? 

Purchase Besotted at:
The knock on the Lanesborough Suite's door is firm and unhesitant. I glance at my watch. Very punctual. I like that. I open the door and… My, my, she is a beauty: waist-length, straight blonde hair, gorgeous big eyes. And scarlet lips. Lana almost never colors her lips so red. She is wearing a long, white coat belted at the waist and really, really high heels. They remind me of the shoes Lana wore the first night I met her.

She is chewing gum, though. I hate that. She must watch too many movies about big-hearted hookers. I put my hand out, palm outstretched. For a moment she looks at me, clueless. I raise my eyebrows and she hurriedly takes the gum out of her mouth and puts it into my hand. Then she raises her own eyebrows and cheekily stretches her hand out.

'Don't you want to come in first?' I ask, amused but not showing it.

'Of course,' she says and walks past me. Her accent is odd. She must be making it up as she goes along.

I close the door and watch her walk ahead of me. She has a good walk. I like a woman who can walk with grace. She stops in front of the low table where there is a platter of fresh fruit and a bottle of champagne cooling in an ice bucket, then turns around to face me. For a moment I am distracted by the picture she makes standing in the agreeably English decor of traditional prints and chintzes teamed with bold choices of acid greens and Schiaparelli pinks.

'I'm sorry, what's your name?'

'Rumor.'

I smile. The name suits her. She looks like a rumor. Couldn't possibly be true.

'Would you like a glass of champagne?'

She lifts one foot and lets it swing back. It is impossibly erotic. 'I'd like to be paid first.'

I don't react to the provocation. 'The money is by the lamp.'

She glances at the neat pile of money as she works the two buttons on her coat. The coat lands on the sofa behind her. She is wearing a very short white dress. Wordlessly, she turns away from me and bends from the waist, so her ass is pushed out and her skirt rides up to where her smooth thighs indent and I glimpse the other thing I had specified—a freshly waxed pussy. The lips are already swollen and reddened, and as I watch moisture starts to gather.

Immediately I am hard as hell.

Slowly, holding that position, she counts the money. The desire to ram her while she is counting her money is strong, but I resist. She puts the last note on top of the pile she has counted, and turns to face me.

'All there?'

'Yeah,' she says slowly, her acquired accent undergoing another change. 'All there.'
I move towards her and put my hand between her legs. Obligingly, she parts them and my fingers start to play with the soaking flesh.

'So Rumor, what shall we do with you?'

'Mr. Barrington—'

'Blake,' I say persuasively, as I continue to explore the silky, wet folds.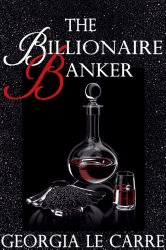 Georgia will be awarding The entire e-book collection of The Billionaire Banker Series: 'The Billionaire Banker', 'Forty2 Days', 'Besotted' and 'Seduce Me' as well as three Amazon Gift Cards in the following dollar amounts: $30, $20, and $10 to 4 lucky readers. What are you waiting for? Get to commenting so you can win! Good Luck!
a Rafflecopter giveaway
Georgia Le Carre lives in England, in an old 19th century romantic cottage surrounded by a magical garden filled with fruit and walnut trees.
When she is not feeding words into her laptop, she is either curled up in bed with a box of chocolates and a good read, or lost in a long walk in the woods. Especially on moonlit nights. And often with the man of her dreams.
You can find Georgia on: